March 2023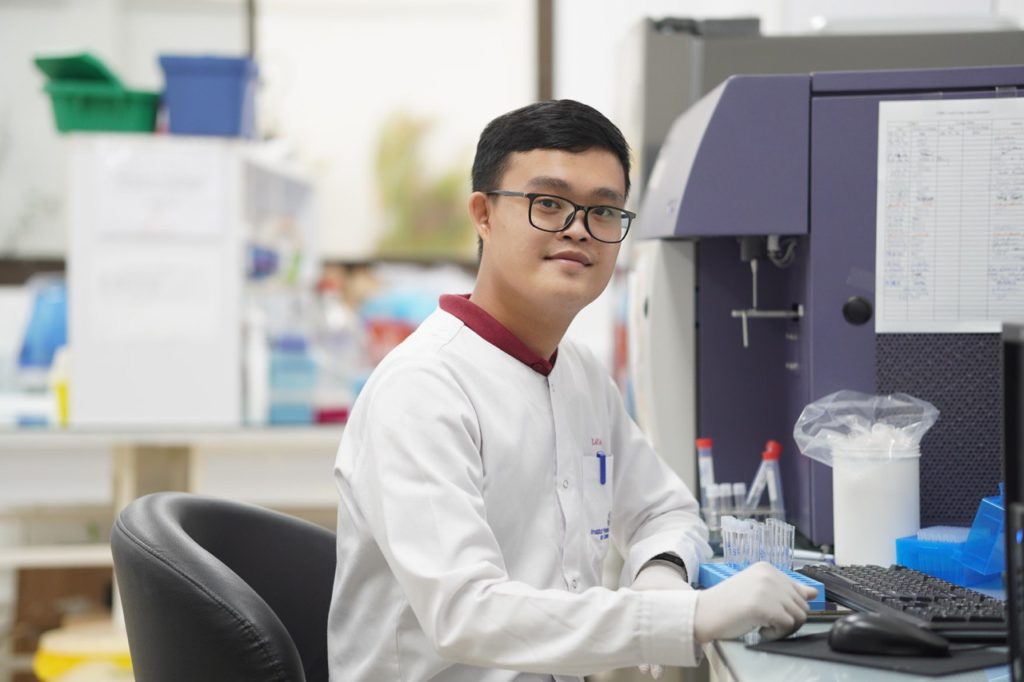 Sokchea, what is your background, and how did you end up working at Institut Pasteur du Camboge?
My name is Sokchea Lay, and I am from Cambodia. I am currently a Research Engineer at Institute Pasteur du Cambodge (IPC) and also a PhD student at University of Antwerp, Belgium. I graduated with Bachelor degree of Pharmacy from University of Puthisastra in 2017. In the same year, I started my Master degree in Medical Biology in the University of Health Sciences, Cambodia. During my master degree, I was assigned to do 6-month internship in the Medical Biology laboratory at IPC, where I learned about infectious diseases, laboratory analysis, and also biomedical research. After my initial internship, I had the opportunity to do an additional 6-months internship in the Immunology unit under the supervision of Dr. Tineke Cantaert. During this internship, I started to build my scientific knowledge and learned novel techniques in biomedical research. I was offered a Senior Technician position in 2019, and then promoted to my current position as research engineer/PhD student under the joint supervision of Dr. Cantaert and Prof. Kevin K. Ariën, PhD from the Institute of Tropical Medicine in Antwerp.
Could you describe the work you are doing on the PICREID project?
In our laboratory, we aim to characterize in detail the humoral immune response after dengue virus infection. We are specifically interested in the functional antibody response, and in different antibody effector functions. This response can be both protective or can induce immunopathology in some cases. We are developing novel assays that can assess this dual role of anti-dengue antibodies. I am responsible for setting up and performing all the experiments, analyzing the data and interpreting these data within the immunological context of dengue infection.
What is your favorite task to do in the lab?
There is one question that always comes up in my mind: "Why does our immune system respond differently to dengue virus?" Following this question, my favorite task in the lab is to create a hypothesis and set up an in vitro experiment to answer these questions by using different cell lines or primary cells from patients.
And what is your least favorite task?
I like working in the lab yet there are some activities that are less exciting. Among those activities, my least favorite task is maintaining cell lines, as this is a very repetitive task.
You started off as a research engineer on the project and have now started pursuing your PhD. Was this the plan from the beginning, or was this a recent decision?
It was the plan to pursue a PhD study from the start. My fascination for research began during my master's degree and my ultimate goal is to develop myself as an independent researcher in translational Immunology. One of my favorite things is to apply what I have learned in theory into practice in the lab. I am especially excited when I can reproduce and extend findings from the literature with my own experiments. As a PhD student, you get to be your own boss, pursue your interests and passions, connect with other researchers, and more.
Who are some of the figures in science who inspire you the most?
My current PhD promoter, Dr. Tineke Cantaert and my previous direct supervisor, Dr. Vo Thi My Hoa are my role models. They inspired me a lot both in my personal life and in my scientific career. Another role model was Dr. Regis Sodoyer, one of my lecturers at the University of Health Sciences. The subject of his classes was on how we can advance technology used in research. He brought me the idea that, besides working in the medical sector, one is also able to help individuals or the public by doing research. Not only treating a patient directly is of great value, but also the research to improve diagnosis, treatment and vaccine development are of the benefit for patients and the society. This also inspired me to become a scientist.
What are some of the skills you have acquired since beginning your work on PICREID?
The PICREID project offers me an opportunity expand my expertise. I am responsible for the setup and execution of the experiments. In addition, I am learning to become an independent scientist, with the all the skills required for that; communication, writing, project management, technical skills in the lab, and teaching skills by training internship students. I have also taken classes in biostatistics and advanced writing and communication in English.
As you may know, the CREID network has a Pilot Program for early-career researchers. If you were to submit your own research project, what might that look like?
If I have an opportunity to submit a future project, it will aim to understand the immunopathology of different flavivirus infections in Cambodia and to understand the interplay between the cross-reactive immune response. In Cambodia, dengue, Japanese Encephalitis and Zika virus co-circulate.
What are some of the challenges doctoral candidates face today, and what advice do you have for other individuals considering pursuing a PhD?
In my mind, there are 5:
Time management: So much work to do, so little time to finish it! A PhD is a time competition. There can be a lot of stress related to project deadlines and report writing. You will need to work smart and fast. However, it is also important to have a good work-life balance.
Supervisor conflict: Pursuing a PhD is already difficult to complete, and having conflict or issues with your supervisor or promotor can give additional pressure to the student.
Moving forward: It is a challenge to keep moving forward. Sometimes, the experiments are not working and it is not easy to identify the issue. Other times, the results are unexpected and more experiments need to be done to confirm and explain the results.
Independence: You will need to switch between different experiments and parts of your thesis work. You will need to make your own decisions on what is important. The work also requires you to be flexible as you sometimes work on multiple aspects of the PhD at the same time.
Financial support: the job is also challenging as PhD students are sometimes uncertain about their future career. Without long-term financial security, and with long working hours, a career in science is not so easy to obtain.
My recommendation for those who plan to pursue their PhD:
Pursuing a PhD is very important decision. It is not only a career choice that affects the next 3–7 years of your life, it also has an effect on your future career path and potential job opportunities. With so much weight placed on pursuing a PhD, you will need to be well prepared, make sure you have enough time to dedicate to the PhD and be able to face and solve any unforeseen problems. The most important thing is to be motivated!